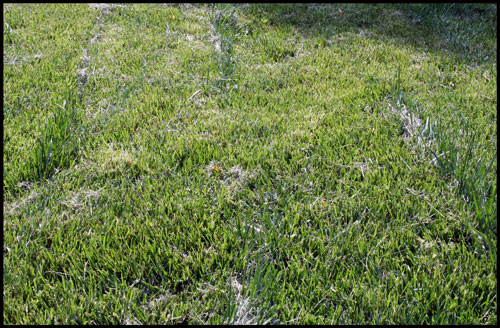 Well, I'm not going to post a pic of it, but I can tell you I learned a big lesson from it. It has been over a month of putting it off, but it was TIME to finally mow the lawn. It's a job I leave up to my husband to do as I am allergic to grass cuttings in the air, but I was ready with a mask and military scarf to keep the cuttings out of my mouth and I was going to cut it....the lawn that is. I was a sunny day yesterday...perfect for getting the grass all freshly cut and after my failed attempts at starting the mower, I discovered it was out of fuel. So today, my husband cut the grass when he got home. As I arrived home, I could hear the sound of the mower going and I was excited to get to raking up the cuttings. I set to work immediately, but then took a quick pause to get the kids a snack and shove dinner in the oven. As I headed back out and continued at my work, I kept noting the fact that our lawn is lumpy. Loads of ant hills and clay clumps....and well.....
All I have to say, is I am glad that I didn't step in it! It was fresh and huge! I stopped, sighed, checked the bottom of my shoes (hey, I have been stepping in lumps up to this point), and then got a big a shovel to scoop it up and dispose of it. When I got back to raking, I thought..."Well, we hadn't mowed the lawn in AGES, so why not....can't see it in the tall, overgrown grass." How often do we get "crapped" on or step in "crap", or go through "crap" and think it is completely random. I would have to say, if I wanted my "stuff" put anywhere I am not going to put it where it would be obvious (like on my neighbour's well-manicured lawn)....it's easier when it is hidden or even better still, along side a pile of the same "stuff".
If we had cut our lawn and it was pretty and green and leaf-free, like our neighbours, would the pile have gotten left there? If we were taking care of what is ours and setting a standard of "no crap allowed" would it have been there? Maybe. But it's harder to spot neglect in a pile of neglect. I didn't see it! It was lumped among a pile of grass cuttings. Although I wasn't expected the "stuff", I was not surprised when I saw it...but it would have been easier to see it (and avoid it) if our lawn was maintained and it would've stood out, right on top. After almost stepping in it, I was more thoughtful to where I was putting my feet, more aware of my surroundings, more conscious of the steps I was taking. I was grateful for encountering the "stuff" to help me be more involved, and a part of what I had really sought out to do, which is to show some pride of ownership and take care of what I got. When things get left undone, it becomes mental clutter. And the more stuff you leave undone and incomplete, well it can feel like a pile of ...."stuff". Staying clear in mind and remaining focused and active to the completion of whatever you set out to do, leaves room for more stuff to get done, and more room in your mind to apply the best of yourself to your tasks. And am I ever glad we finally finished cutting the lawn at the end of season and not hibernate with the thought of dealing with that "stuff" in the Spring...yummm!